dr. Benjamin Mimoun
PhD student
PhD thesis: Flexible Sensors for Minimally Invasive Medical Instruments
Promotor: Ronald Dekker
Expertise: highly flexible single-grain TFTs for flexible displays; flexible substrates for medical applications
Themes:
Flexible and Stretchable Electronics
Alumnus of ECTM
Left in 2013
Now: Sonion (Netherlands)
Benjamin Mimoun was born in Toulouse, France, in 1984. He received his master degree in Applied Physics from the National Institute of Applied Sciences, Toulouse, France, in 2008. He was with the Microelectronics Research Center in Georgia Institute of Technology and CardioMEMS Company, Atlanta, GA, USA, from February 2008 to September 2008 working on experimental characterization of laser-induced stress in pressure sensors. From October 2008 until December 2012, he was working toward the PhD degree at the Delft Institute of Microsystems and Nanoelectronics, Delft University of Technology, where he was involved in the development of smart sensors on flexible substrates for medical applications.
Since January 2013, Benjamin joined the TFT group in DIMES as a post-doctoral researcher, working on the fabrication and characterization of highly flexible single-grain TFTs for flexible displays.
Projects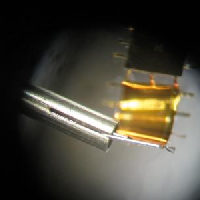 Smart Flexible Sensors for in-vivo Coronary Circulation Diagnostics
Combined pressure and flow sensor, so small that it can be positioned in the tip of the guide wire used in heart angioplasty surgery
Last updated: 16 Jun 2014