dr. Vincent Henneken
PhD student
PhD thesis: Product-internal assembly functions: a novel micro-assembly concept applied to optical interconnects
Promotor: Urs Staufer, Lina Sarro
Expertise: Miniaturization-related system integration
Themes:
MEMS Technology
Alumnus of ECTM
Left in 2008
Now: Philips Research (Netherlands)
R&D specialist having PhD in mechanical engineering with focus on MEMS development. Direct experience in cleanroom fabrication, microsystem design, modelling and testing. Broad interest in miniaturization-related system integration projects involving silicon and non-silicon components.
Projects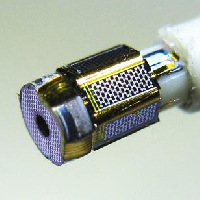 Sensors and Circuits on Catheters
How to bring highly miniaturized circuits, sensors and actuators to the tip of the catheters and other minimal invasive surgical instruments?
Last updated: 16 Jun 2014