Micro/Nano System Integration and Reliability
Contact: Kouchi Zhang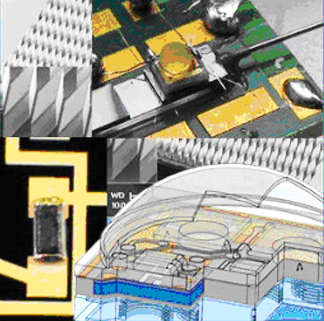 The research addresses compact and complex system integration and reliability. The major research activities are 3D wafer level integration; advanced packaging level integration (SiP); control and interface engineering of complex systems; design for component, product and complex system reliability; fast reliability qualification and testing. As one of the leading research groups for Solid State Lighting (SSL), this group develops generic technologies for SSL and other micro/nanoelectronics systems, contributes to and participates in major EU funded research programmes and Dutch and Chinese national R&D programmes. The group has a strong international network and close cooperation with the worldwide leading industries and research institutions.
Projects under this theme
High Performance Vehicle Computer and Communication System for Autonomous Driving
Solid State Lighting reliability for automotive application
GaN-based PiN Diodes for RF Power Limiter Application
Monolithically integrated SiC sun sensor for Space
Netherlands Organ-on-Chip Initiative
To develop new microphysiological platforms to better predict the effect of medicines, based on a combination of human stem cells and microtechnology.
Advanced packaging technology of SiC power module
High performance devices based on advanced materials
AlGaN/GaN High Electron Mobility Transistor (HEMT) Gas Sensor Platform Development
AlGaN/GaN High Electron Mobility Transistor (HEMT) Gas Sensor Platform Development
2D materials-based Heat Waste Recovery of LED
Gallium nitride (GaN) on silicon system integration
History
Superconducting Carbon Nanotubes composite as Vertical Interconnect for Qubit Integration at Cryogenic Temperature
Thermal management in 3d heterogeneous integration
LED Luminaire Colour Shift
Quick reliability assessment for mid-power white-light LED packages
LED Power Supply Reliability
3D System-in-package Design Using Stacked Silicon Submount Technology
Multifuntional LED Integration and Miniaturization
3D Smart Wafer Level Package for LEDs
Material Degradation in Solid State Lightening Applications
Fast qualification of solder reliability in solid state lighting application
Solid State Lighting reliability for automotive application
The use of SiPs in all kinds of applications is only possible if its reliability can be qualified
Innovative Thermal Management Breakthrough Of Advanced Solid State Lighting Module
Yaqian Zhang
Caitlin Ramsey
Jiarui Mo

Alumni

Mauricio Rosencwaig (2019)
Alister Kurmanbay (2019)
Mengxin Yu (2019)